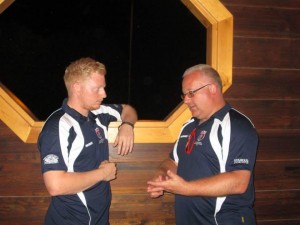 Simon is a fully registered osteopath with the General Osteopathic Council, and is a member of the Institute of Osteopathy, the Osteopathic Sports Care Association and the Northern Counties Society of Osteopaths.
Simon graduated in 1996 from the British College of Naturopathy & Osteopathy in London. He then moved to Yorkshire where he joined the practice. He has post graduate training in sports injuries, dry needling (or Western acupuncture), core stability, workplace assessments and office ergonomics.
In 2008, Simon took over the reigns at the clinic when Simon Muddle was unable to continue due to ill-health.
As well as working with a number of sports teams over the years, such as hockey, football, rugby and running, Simon provides osteopathic care in industry.
Simon is registered with Bup, AXA PPP, Norwich Union Simply Health as well as other insurance companies and health care providers. It's important for patients to check terms and conditions of their policies before treatment in particular if there is excess to bear. Please bring any membership, case or authorisation numbers that will have been provided by your insurers.